| | | |
| --- | --- | --- |
| | Eastover Macrobiotic Summer Conference | |
Retreat
Date:
July 30-August 5, 2017
Location:
Lenox, Massachusetts, USA
Venue:
Eastover Estate & Retreat Center
Address:
430 East Street

Contact Info:
Yingxing Wang
Email:
Website:
Phone:
866 264 5139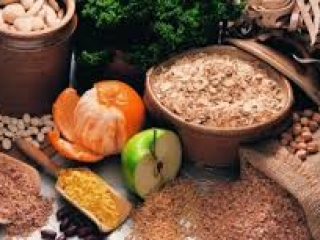 Eastover Macrobiotic Summer Conference
Over 25 Teachers, Counselors & Macrobiotic Chefs • 50 Cooking Classes, Lectures and Exercise Classes - Come For The Week, The Day, Or For The Gala!
The 2017 Macrobiotic Summer Conference will feature over 25 leading macrobiotic teachers, counselors, and chefs including Martha C. Cottrell, M.D., Edward Esko, Alex Jack, Bettina Zumdick, Lino and Jane Stanchich, Tom Monte, Warren Kramer, Judy and Larry MacKenney, Sheri Demaris, Amber Maisano, Sachi Kato, David and Nicola McCarthy, Catherine Albanese, Masumi Goldman, and many others.
The conference will include over 50 presentations on Macrobiotic Cooking, Macrobiotic Philosophy, Energy Healing, Visual Diagnosis, Nine Star Ki, Environmental Studies, Shiatsu, Yoga, and Meditation. Private sessions will be available for Macrobiotic Counseling, Shiatsu Massage, Nine Star Ki Readings, Menu Planning, and Tao Yin Yoga.
Studies will run from morning to evening and culminate with a Gala fundraising dinner for macrobiotic education on Friday, August 4. Gourmet macrobiotic meals, prepared under the guidance of Brendan Fitzgerald, a head chef at the 2016 Kushi Institute Summer Conference, a head chef on the Holistic Cruise at Sea, and a personal chef to Madonna and other celebrities, will be served daily.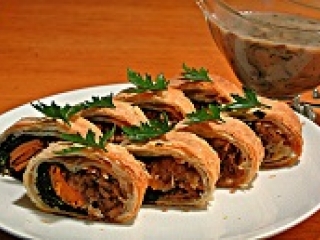 The Macrobiotic Summer Conference is a perfect occasion to further your knowledge and understanding, meet old friends and make new ones, and enjoy a week of delightful food and fellowship in a beautiful natural environment.
Earlybird and other discounts available! - To register, call Eastover at 866-264-5139 or visit http://www.eastover.com/macrobiotic-summer-conference.html.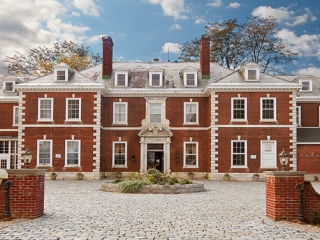 EASTOVER is A 600-acre sanctuary and holistic retreat center located in the cultural hub of the Berkshires - minutes from Tanglewood, Kripalu & many cultural venues. The estate is designed around a hundred year old evocative "Summer Cottage" and immerses you in a contemplative, holistic environment from the moment you enter its grounds - with its courtyards and terraces overlooking English & Japanese gardens, inviting mix of meadows, woodland trails and breathtaking views of the Berkshire Mountains.
On the first floor of the mansion you will find a lovely Chinese Tea Room, a meditation room/yoga studio, a Chinese calligraphy station, and a terrace dining hall. Additionally, Eastover offers a sun drenched cafe, meeting rooms and a wide range of overnight accommodations, from rustic to luxurious.
Just walking distance from the mansion is Tally Ho - a newly renovated, entertainment/multi-purpose venue and iconic gathering place loved for decades by people from the Berkshires and beyond. With over 9,000 square feet, it offers the largest indoor space in Berkshire County.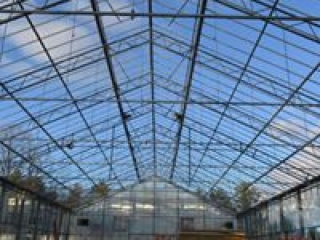 Eastover is not affiliated with any specific spiritual tradition; its eclectic, open-hearted receptivity to a broad array of groups aims to support the emergence of holistic/ecological ideals that lead the way to a sustainable planet. As an example of how Eastover walks the "eco" walk, its state-of-the art water reclamation system will be in commission this year - a facility of great value, and a labor of love. Eastover welcomes visits and educational tours to its greenhouse.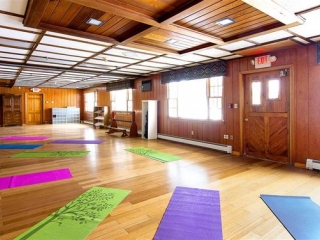 Eastover offers spacious studios
and workshop rooms.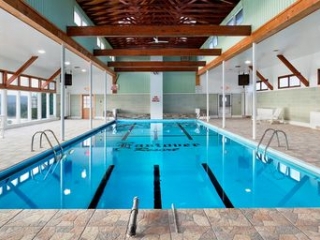 Eastover's beautiful heated indoor pool.
Sauna and massage facilities available as well.